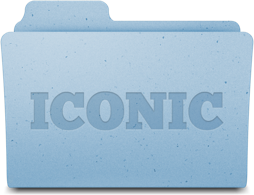 Back in 2008 I built an OS X app to create custom folder icons. The built-in OS X icons feature a simple, textured folder with an engraved image for special folders like the Applications folder, or a user's home directory. My app attempted to replicate the look of these icons by taking the user's own image and engraving it onto the standard folder icon.
Four years later and I've made some improvements. The new version of Iconic uses a combination of gradient, shadow and glow effects to produce icons that are much closer to the standard OS X icons than the first version's simple emboss effect. I've also fixed a couple of the biggest problems; images with transparent backgrounds are now supported and the app is much, much faster.
The original version was free (although there were some Google ads and a donate button on the website), but the Mac market place has moved on a lot and, thanks to Apple's App Store, it's now much easier to sell small apps for a small fee. That's what I'll be doing with this version. The price will be $1.99 US (or some similar amount in your local currency).
You'll find the new version of Iconic on the lovely new Iconic website or you can get it directly from the Mac App Store.
I suppose some of you might be thinking "that's all very well, but what about Choosy?" You needn't worry. Choosy's current architecture means that it's not eligible for a place in the Mac App Store, but a major overhaul is underway and I'm making good progress. The new version will not only be App Store compliant, it will also fix various bugs and provide a more stable and well designed base for future releases. I'm deliberately not going to say when it will be available; OS X software has never been my full time job and other things often have to take priority. I am working on it though, it is coming.